Private voice & Piano lessons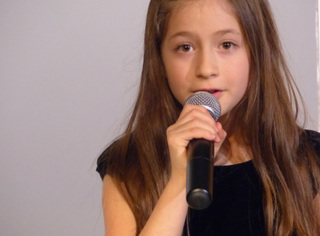 We offer voice lessons, college prep, audition prep, coaching, and piano lessons for all levels and styles here at EDGE. It doesn't matter if your goal is to audition for local shows or if you want to become a karaoke super star...we want to teach you! Lessons are offered in 30 or 60 minute sessions in our private room in the studio! Performance opportunities are available in the form of recitals and community showcases. We also participate in a once yearly competition for those ready to compete.



​Lesson rates:
$30 for 30 minute lesson
$45 for 45 minute lesson

$60 for 60 minute lesson
Lessons are taught by Miss Jordyn (visit 'About Us !'
section for bio) and are scheduled via email or phone. Weekly, bi-weekly or drop in lessons can be scheduled. Student's enrolled in private voice or acting lessons are allowed to skip the audition process for summer musical programs.
If you'd like to see what lesson slots might be open or would like more info, please email Miss Jordyn: jordyn@edgeartsanddance.com
---
Other private lesson info from Miss Jordyn!
Please always bring a 3-ring NOTEBOOK, PENCIL and WATER to your lesson. Bring your own books if you have them, keep copies in your notebook.
I need 24 hours notice for lesson cancellations. Unlike other jobs, I only get paid when my lessons show up. You may call, email or text to cancel a lesson. I understand emergencies and sudden illness. Please plan schedules around our time together and request adjusted lesson times accordingly.

Illness: YOU CAN SING WITH A COLD. YOU CANNOT SING WITH A SORE THROAT. Both those things said, unless a student has a fever or they are contagious, please come to your lesson. We can do other things (work on character development, music theory, ear training, etc) while they are sick. If they can go to school, they can come to lessons.

Lesson slots are a predetermined time (30, 45 or 60 minutes). If you are late, there will not be added time on to your lesson. If I am running late, I add onto your lesson to make sure we make that time. If you arrive early, or drop off your child early and we can start early, I generally do.

Please keep in mind that we spend time talking during lessons for various reasons and my connection to you or your child is VERY important to the growth of a musician. Some lessons have a lot of talking and others have none.

Voice lessons in Shoreline, WA
Acting lessons,Shoreline, WA
Dance Classes, Shoreline, WA
Singing Lessons in Shoreline, WA